Fedorova Production company presented its documentary film "Gogol Doc" at the Meeting Point — Vilnius of Kino Pavasaris | Vilnius International Film Festival.
The film producer Alona Fedorova and the director Alisa Pavlovskaya were telling about our new project.
Recall that the documentary film "Gogol Doc" is an author's movie created on the platform of one of the most famous Ukrainian art festivals "Gogol Fest". It interprets the legend of the Tower of Babel in the Ukrainian manner.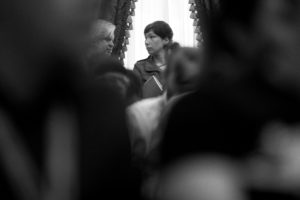 "The heroes of our film live predestination of the apocalypse in a playful form on the scenic areas of art territory. They live the myth of the apocalypse on their example. The organization of the organization and the festival is akin to the construction of the Tower of Babel. Only they build it not skywards, but in a horizontal, relying on the horizontal organization of the organization of the festival. They help each other in every way, not even understanding each other. In this territory there is no place for selfishness, which was the main problem of the destruction of the tower in the myth.
Artists are called to make the world better, because culture shapes society. They change the thinking about Babylon and the Apocalypse from negative to positive, when the Tower does not collapse, but on the contrary – the Dream appears to build it. We begin to move towards the cherished goal with the laying of the foundation. We get acquainted with the ideological inspirers and executors of this grandiose construction, "- says film director Alisa Pavlovskaya.
The film received many positive reviews from the jury members of the film festival and film critics.
Now Gogol Doc is at the stage of post-production and is expected to be released in January next year.